16th Annual Housing Award Winners "Make an Impact
After virtual ceremonies the past two years, the Hampton Roads Housing Consortium (HRHC) Housing Awards returned to an in-person luncheon. The 16th Annual Housing Awards was held at the Hampton Roads Convention Center on October 20th. The annual awards recognize individuals and organizations that have contributed to improving housing conditions for the region. The HRPDC provides staffing support to the HRHC.

"HRHC award honorees exhibited dedication and commitment while providing a diverse spectrum of housing needs from innovative 3-D housing, affordable community development, promotion of homebuyer products, and financial and housing counseling programs that serve Hampton Roads residents," said Brett Sierra, HRHC Chair.

This year's honorees and their awards are:

HRHC Lifetime Achievement Award Hugh Forehand
Assistant to the Director of Community Development for Special Projects
Newport News Redevelopment & Housing Authority
This award recognizes an individual who demonstrated lifetime successes committed to improving families' lives and our communities' well-being.
HRHC Housing Warrior Erica Ramjohn
Senior Certified Housing Counselor
The Up Center
This award recognizes an individual that has been instrumental in creating or supporting affordable housing, implementing housing-related programs, educational efforts, or assisting others in solving challenging housing issues through creative and impactive programs.
HRHC Housing Partner Special Project Award 3-D Habitat Home
Habitat for Humanity of the Peninsula & Greater Williamsburg
This award recognizes an individual or organization demonstrating outstanding commitment, effectiveness, and innovation in meeting any housing-related needs through a project or specific program.
HRHC Across the Region Award Georgette "Gigi" Houchins
Business Development Officer
Virginia Housing
This award recognizes an organization or individual for distinguished service in improving housing conditions on a regional level.
SPONSORS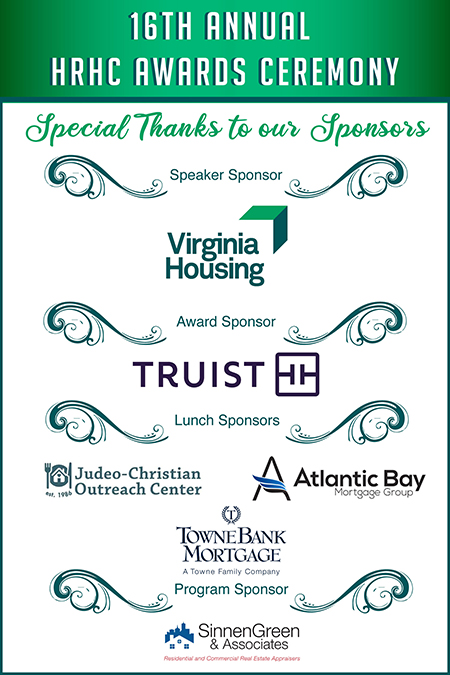 Hampton Roads Housing Consortium (HRHC) is a voluntary association of governmental, private and non-profit organizations and individuals committed to improving affordable housing opportunities in the Hampton Roads region of Virginia.
The HRHC serves as a regional vehicle to promote and facilitate excellent and affordable housing opportunities within Hampton Roads.
HRHC believes that households of all income levels deserve a fair opportunity to purchase or rent housing that is safe, affordable and suitable for their needs. The HRHC also supports adequate housing for persons with special needs including the disabled, elderly and homeless.
Many HRHC member groups are directly involved with:
Community Planning
Housing Production and Rehabilitation,
Homeownership and Foreclosure Counseling
Affordable Mortgage Financing
Real estate sales and/or rentals
Community Supportive Services (Childcare, Education/Training, Employment )
Homelessness Prevention
Emergency Services
Volunteers Needed
We need your help!!Please consider how you can become more involved with our organization. We need HRHC members with fresh ideas to share in various areas. Volunteer today! Click HERE for more information or email us at info@hamptonroadshousing.org