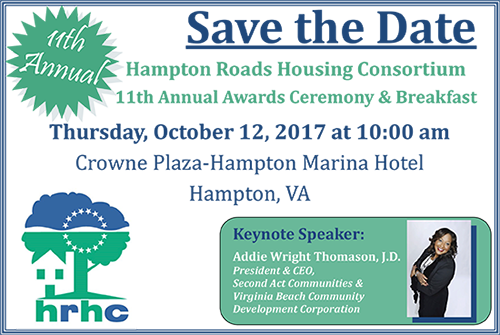 Call for Nominations for the Eleventh Annual HRHC Award Ceremony
Nomination Deadline Extended to August 28, 2017, 5pm.
We are currently accepting nominations for the Eleventh Annual Award Ceremony to be held on Thursday, October 12th. Click HERE for a nomination form.
Nomination Deadline Extended to August 28, 2017, 5pm.
Sponsorship Opportunities Available! Click HERE for more information.
Join the following sponsors who have already signed up to sponsor the 11th Annual HRHC Awards.
Breakfast Sponsors
Atlantic Bay Mortgage
BB&T Mortgage
Program Sponsors
Virginia Community Capital
Prosper Insurance/Grange Insurance
TowneBank
(As of 8/17/17)
Attention Peninsula Elementary Students!
Let your creativity shine in the HRHC's My House, My Home Our Community Poster Contest! Click the image below for more details.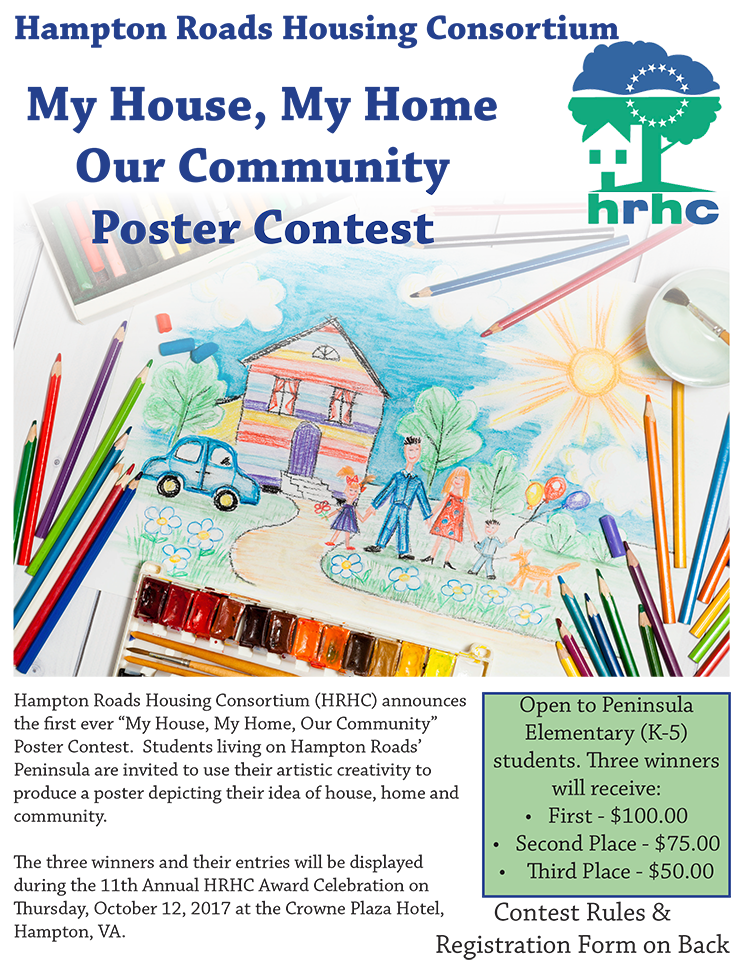 Welcome!
Hampton Roads Housing Consortium (HRHC) is a voluntary association of governmental, private and non-profit organizations and individuals committed to improving affordable housing opportunities in the Hampton Roads region of Virginia.
The HRHC serves as a regional vehicle to promote and facilitate excellent and affordable housing opportunities within Hampton Roads.
HRHC believes that households of all income levels deserve a fair opportunity to purchase or rent housing that is safe, affordable and suitable for their needs. The HRHC also supports adequate housing for persons with special needs including the disabled, elderly and homeless.
Many HRHC member groups are directly involved with:
Community Planning
Housing Production and Rehabilitation,
Homeownership and Foreclosure Counseling
Affordable Mortgage Financing
Real estate sales and/or rentals
Community Supportive Services (Childcare, Education/Training, Employment )
Homelessness Prevention
Emergency Services
Volunteers Needed
We need your help!!Please consider how you can become more involved with our organization. We need HRHC members with fresh ideas to share in various areas. Volunteer today! Click HERE for more information or email us at info@hamptonroadshousing.org
Important Dates

September 6, 2017
HRHC Board of Directors Meeting
10:00 am – 12 Noon
HRPDC- Regional Building
723 Woodlake Drive
Chesapeake, VA
October 12, 2017
HRHC Annual Meeting and Awards Ceremony
10:00 am – 12 Noon
Crowne Plaza Hotel
Hampton, VA
December 6, 2017
HRHC Board of Directors Meeting
10:00am-12pm (Noon)
HRPDC-Regional Building
723 Woodlake Drive
Chesapeake, VA
Highlights
Membership Drive is underway. Click here to pay online